Choosing to become a psych major is one of the best decisions I've ever made. 
I mean, apart from marrying my husband or deciding at the age of 13 to finally engage in normal personal hygiene routines. (It was time.) But in any case, I love being a psych major.
In what other major do you get to talk about what makes people do the things they do for hours on end and not be seen as some sort of strange freak? There's no more "Honey, talking about people's early childhood experienced with their parents isn't acceptable conversation at the dinner table." No, these people get me.
That being said, there are quite a few people who just don't. And I find that whenever I say I'm a psych major, I inevitably get asked the same questions that always betray the fact that the asker doesn't actually know much about psychology. And hey–I'm not blaming them! I don't know a single thing about engineering or women's studies, to be honest! ("Wow, engineering… so that's where you build things, right?" is an actual question I've asked a chemical engineering student.) However, some of these questions have gotten a little out of hand recently so I thought I'd make a list here with my answers for anyone who might be thinking about asking these questions to the next psych major they meet.
1. "Wow! So you're going to be a counsellor?"
Now, this doesn't apply to all psych students of course, but the vast majority of us will not go on to counselling. I'm pursuing a career in parent management training and working with special needs. I would not be suited for life coaching/counselling, and psychology does not always equal therapist in the way you usually think of it.
2. "So do you guys just talk about sex all the time?"
No. No we don't.
People often think this because Freud is the most media-famous psychologist, but what most people don't understand is that (a) many of Freud's theories didn't actually have anything to do with sex in particular and (b) we actually don't use Freud's theories in psychology anymore. Yes, they are the building blocks for a lot of therapies, but they are a starting point–we've moved on. Please, please move on, too.
NB: I usually get asked this by first-year guys.
3. "I've heard that psych is really easy."
I generally just meet this with a cold, dead stare. Yes, it's possible to get a C average in psychology without putting too much work in, but to get an A to an A+ average, which is what a lot of grad programs require? It's a lot of work. I spend approximately 50-60 hours a week doing school alone. That's ten hours a day in the week plus working on Saturdays. Now add in church, time I spend in basic living tasks like cooking and cleaning, transportation to and from school, and it doesn't leave much time for free time! Psychology is not easy. Yes, it's hard to actually flunk out, but to do well? That's tough.
4. "So do your profs, like, give you therapy?"
No. Our profs are sometimes the reason we need therapy later, though. Just kidding! (Geez, lighten up. But seriously. College anxiety is a real thing. Seek help.) In all honesty, one thing I really appreciate about psych professors is how active they are in telling their students about mental health resources on campus. I wish more faculties would be as committed to their students' mental well-being.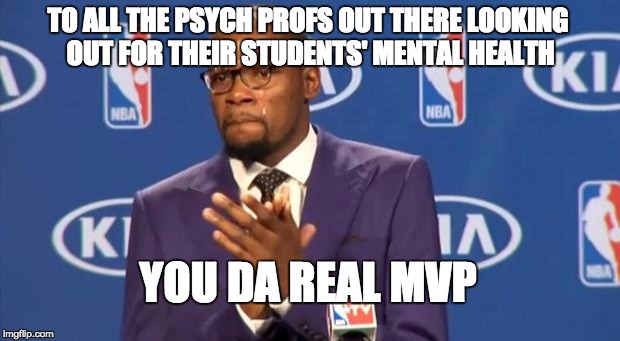 So, no. I have never gotten therapy from one of my psych profs. But they're excellent in pointing you towards services that can help.
5. "So since you're a psych major can you, like, give me therapy?"
Apart from the obvious fact that I'm only an undergrad, there's also the ethical consideration that I know you personally and am a part of your social circle… so no. It's like how you don't want your proctologist to come to Christmas dinner. It's just awkward, because he knows too much about you. However, I'd be happy to point you towards other resources that can help, because it always makes a psych student happy to see people seeking treatment!
6. "Ohmygosh so you totally get it how I actually have [mental illness], no one believes me but I do, see, because [lists a ton of symptoms]"
I never really know how to answer this one but I get it quite a bit. I don't mind discussing mental health with people when they have a legitimate concern about their mental state, so that's not what I'm talking about here. What makes me uncomfortable is when people are almost bragging about having a mental illness–like it's some sort of trophy making them special. Mental illness is a real battle for those who struggle with it, so I don't like seeing people trivialize it as something that makes them more interesting. This especially became a problem when TV shows started having main characters with symptoms similar to certain disorders like autism or OCD (*knock knock knock* Penny *knock knock knock* Penny *knock knock knock* Penny), from my observations, anyway.
I can't tell you how many people I have met and then five minutes later they're pouring out lists and lists of symptoms that are really quite personal and should not be spilled to someone they just met in a social setting, for their own sake. So if you have a friend who's a psych major and you're legitimately concerned about your mental health, ask them if they think it's appropriate to discuss it. Or consider talking to a school counsellor. Undergrads don't really know anything anyway.
7. "So why are you a psych major, anyway?"
Ok, so this one isn't annoying at all. I absolutely love getting this question because it lets me go on one of my hour-long rants about the importance of parenting practices and my love for working with children with intellectual and developmental disabilities, and how they have been relatively forgotten in the medical world. Psychology is something we go into because we're passionate about helping people, spreading wellness, and preventing pain and suffering as best as we can. 
Psychology is the kind of major you go into if you want to feel like you can change the world, even if it's just for one or two clients.
And you know what? All the stress, all the exams, all the endless hours of research is worth it.
---
What are you studying in college? What are some questions you get asked a lot? Let me know in the comments! 

Did you like this post? Pin it by clicking the image above!